KAABOO
Del Mar, CA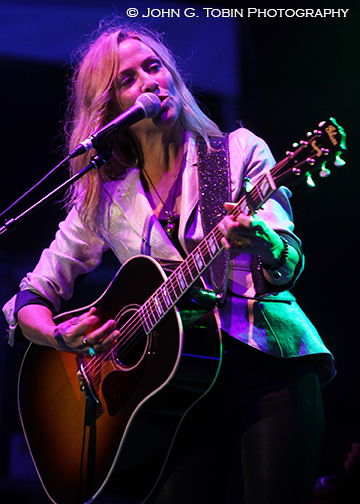 In a world increasingly saturated with R&R music festivals (Coachella,
Lollapalooza, SXSW, Bonnaroo, Rock in Rio, the Reading Festival, Bottle
Rock and Summerfest come to mind) do we really need yet one more? The
answer is a resounding Yes! IF that new festival is KAABOO!
The inaugural KABOO Music Festival, located at the fairgrounds and world
famous ocean adjacent race track in Del Mar, California should have been
scouted by those aforementioned festivals to compile a list of how to do
things right! No outhouses, no dust and a Serious effort to create an
environment that concert goers could enjoy, instead of endure!
To achieve the stated mission of creating an upscale, immersive
"mix-perience," KAABOO featured designer cocktails, a comfy craft beer
garden, art exhibits, large-scale art installations, endless music and
several comedy shows each day. This all combined with "Indulgences,"
several chic lounge areas located in a climate controlled area designed
for rest and revitalization, product demonstrations, women's beauty and
day spa treatments and much more.
Carefully selected "regional culinary artisans" supplied Brazilian,
Italian, American, Mexican and Vietnamese cuisine. The Sage Vegan Bistro
and Southern Fried Vegan and specialty ice cream catered to Vegan tastes.
Even typical festival fare like hot dogs and pizza were "gourmet." Live
demonstrations by renowned chefs appeared regularly on the Culinary Stage.
A pool and the "Bask Beach Club" were among many other amenities setting
this event apart from the others.
I'm burying the lead here because I have yet to mention the lineup! Snoop
Dog, No Doubt, The Killers, Neon Trees, Zac Brown Band, Sheryl Crow, Los
Lobos, Counting Crows, Foster The People, Trombone Shorty, Michael Franti
and Spearhead, 311, Train and a hundred or so other bands played on the
seven stages. Comedians Lewis Black, Tim Meadows, Jeff Garlin, Joel
McHale, Tig Notaro (among many others) appeared on the "Humor Me" stage.
Once again, competing festivals take note: You need better talent lineups
if you want fans to fly around the globe to attend!
Luxury comes with a cost, but budget minded festival goers fared quite
well at KAABOO. One or two day GA passes sold for $125.00 and $229.00
(plus fees and service charges) respectively, but those prices were a
bargain when you consider the amount of music and entertainment involved.
Better yet, the "Hang Five" passes were well worth the $299.00 (one-day)
or $575.00 (two-day) prices. They included a VIP concert with Sheryl Crow
on Thursday, large shaded seating areas at various stages, assorted VIP
perks, and very importantly, the ability to escape the masses. For big
spenders, the options started with the $2499.00 three-day "Hang Ten" pass
(complimentary food and drink, private viewing areas, access to the artist
lounge), and went up from there, depending on the access, amenity and
comfort levels desired.
For the first attempt at a new festival, KAABOO did everything right. The
lineup was my favorite of any festival this year. While unseasonably hot
weather was a bother, my comfort level at KAABOO far surpassed any other
festival I've ever attended.
While upscale events come with upscale pricing, the additional expense is
well worth the joy of enjoying, not enduring three full days of music,
comedy, art and much, much more.
KAABOO, I hope to see you again next year, my favorite new friend!
– Mitchell Wright & John G. Tobin