Mariah Carey 2006
The Adventures of Mimi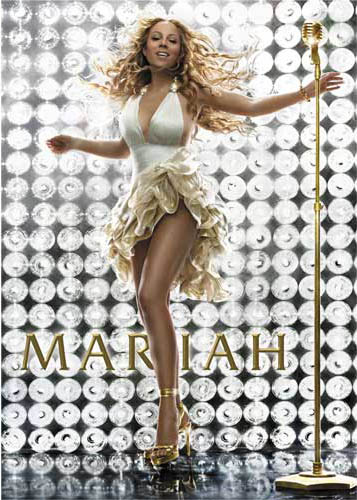 Mariah Carey's sold-out Oct. 2 concert for The Adventures of Mimi Tour arrived in Oakland California with a bang! As the video screens began to glow with lights and the images of a rollercoaster moved across the screen you hear Mariah's voice ring out "Life is kinda like a rollercoaster".
With great anticipation Mariah emerged onto the stage sporting a reveling black top and signature tiny black shorts accented by a see-through black cape. During the opening verse of "It's Like That," she greets the crowd with a, "What's up San Francisco?"

After she breezed through a subsequent remix of "Dreamlover," she welcomed her fans from the Bay Area. She reminisced about the Bay Area and reminded everyone that this even though she was from New York she had a special place in here heart for San Francisco, where local DJ's first played her debut album.
After a wardrobe change, the show went on with Mariah's transition into her debut single "Vision of Love," which came surprisingly early in the concert. Following the performance of "Vision of Love," MC explained that she was aware that she was in Oakland, but she has a lot of friends from San Francisco and wanted to give them a shout out!

The quick, but not rushed, pace of the concert confirmed Mariah has matured from her earlier tours. Missing were the fun skits that filled the "Charmbracelet Tour" and gone were the casual guest appearance of Jack, Mariah's terrier. A more mature Mariah was all business and it was very apparent.

Giving her fans more face time and a better view, Mariah performed "Fantasy", "Don't Forget About Us" & "Always Be My Baby" on a second stage in the middle of the floor seating.

Returning to the main stage she sang snippets of her old hits, Mariah sang "I Wish You Knew", "Can't Let Go", "Thank God I Found You/Make It Last" & "One Sweet Day". Finishing her set off with "Hero". She then thanked the crowd and said good night around, but every one knew she would do an encore. She returned to perform an amazing "We Belong Together" and a reprise of "Butterfly" finish the night off with a sparkle. As butterfly confetti fell from the sky MC bid everyone a fond farewell and departed the stage.
Oct. 2nd OAKLAND, CA Set list:

01. It's Like That
02. Heartbreaker
03. Dreamlover
04. My All
05. Shake It Off
06. Vision of Love
07. Fly Like a Bird
08. I'll Be There
---"B" Stage:
09. Fantasy
10. Don't Forget About Us
11. Always Be My Baby
---End "B" Stage
12. Honey
13. I Wish You Knew (Snippet)
14. Can't Let Go (Snippet)
15. Thank God I Found You/Make It Last (Snippet)
16. One Sweet Day (Snippet)
17. Hero
---Encore:
18. We Belong Together
19. Butterfly Reprise