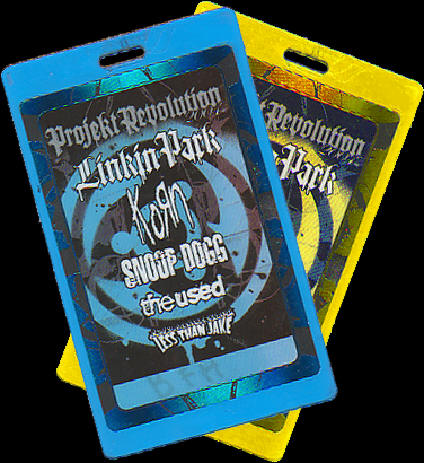 Projekt Revolution 2004
Linkin Park - Korn - Snoop - Less Than Jake - The Used
Many of the rock acts were fun but forgettable. Less Than Jake opened the main stage blasting out catchy pop punk with horns. The Used swirled metal and punk together, inspiring singalongs and fist pumping on new tunes as well as the better-known "Blue and Yellow" and "Take It Away."
Back on the main stage, Snoop Dogg deserved credit for including nine musicians in his Snoopadelics band. They brought dynamics and rhythmic muscle to hits like "Murder Was the Case," "Beautiful" and his 50 Cent collaboration "P.I.M.P." Still, Snoop couldn't have been more cartoonish as he arrived on stage smoking, held aloft his "Gin and Juice" during said song and had an array of characters randomly walking, biking and dancing about his set. Snoop bragged that he was "getting as high as a [m-fer]" and was liable to "do anything," but "anything" turned out to be shtick.
Korn dropped a 65-minute set as night fell, their music dark enough to fit the occasion. Fans shouted along or cheered at singer Jonathan Davis's every exhortation, but it was difficult at times to believe that they could do so straight-faced. The sight of Davis clad in his black leather kilt, blowing into distorted-sounding, barely distinguishable bagpipes as an introduction to "Shoots and Ladders ," which largely cribs the lyrics to nursery favorites like "This Old Man," was an unintended hoot. So too were covers of Cameo's '80s funk hit "Word Up" and a suite of songs from Pink Floyd's "The Wall." Davis said he felt "serious Korn love" from the crowd, and why not, as his band played mostly songs likely to be on the greatest hits disc Korn pushed in a video message at set's end.
Linkin Park were really the only act allowing "rock and hip-hop [to] collaborate" as they rapped in "Step Up." While some of their songs and onstage videos featured a generally anti-authoritarian theme, most explored identity issues ("Numb," "Figure .09") or relationships ("Don't Stay," "From The Inside"). Linkin Park's songs never really explored life's dark or blurry edges the way the best hip-hop does, nor rocked with any true authority or menace.
Most fans should know by now that if you're looking for a musical revolution, you're far more likely to find it in an out-of-the-way club or basement than in a concert shed built for mass-marketed acts and audiences of 20,000.