Kid Rock
Live Trucker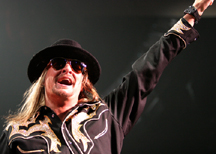 No one has ever said a Kid Rock show lacks energy. Some artists choreograph their shows down to the location of the last bow, performing the same moves day after day… Not Kid Rock! He's no N'SYNC or Britney and thank God for that, freestyling each show with his unique swagger and oomph as the night before. "What's my name." is his signature saying and almost without prompt the women scream "Kid" and the men "Rock".
The action packed two plus hour show at the Los Angeles Gibson Amphitheater started off with DJ Paradime introducing the Twisted Brown Trucker members as the band played the intro to "Bawidaba." Wearing a black-and-white pimp coat embroidered with "Cowboy" on the back, Rob, AKA KID ROCK arrived by rising from beneath the stage to the theme song of "Shaft".
Rock not the stereotypical bible thumper, reportedly travels with a preacher to keep him focused on his first priority, performing. He starts off the shows screaming "You Never Met a Motherf----- Quite Like Me" telling a story about meeting St. Peter at the pearly gates. He said he would arrive in a 1959 drop-top Cadi, meeting up with Joe C. When St. Peter asks why he should be let in to heaven, Rock screamed, "Because you never met a motherf----- quite like me."
A video screen accompanied Rock's performance, often paying homage to his heroes or musicians. The song "American Bad Ass" began with the infamous clip of Clint Eastwood saying "Go ahead, make my day." With other "Bad Asses" such as Hank Williams Jr., Tina Turner, our US Military Troops, the Detroit Red Wings, Willie Nelson and--to the crowd's enjoyment--Dale Earnhardt. Johnny Cash completed the homage by flipping everyone the bird.
It's no mystery that Rock has been influenced by some musical greats, honoring his favorites with freestyle mixes of "Never Met a …" breaking into "Freebird," and "Devil Without a Cause" segued into "Back in Black."
Never absent for a Kid Rock stage were the pole dancers. The crowd was on their feet throughout the entire show and Kid Rock delivered what they came to see, a Bad Ass Rock Show! At the end of the show, Rock bowed down as one of his cronies covers him with a fur, pimp-like coat. Just as Elvis had done until the day he died.