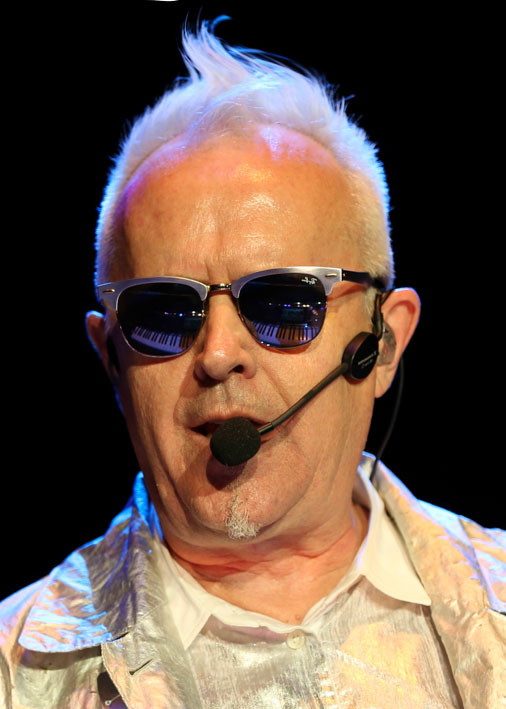 Howard Jones
Regeneration Tour

Howard Jones (born 23 February 1955) is a English musician, singer and songwriter. According to the Guinness Book of British Hit Singles & Albums, "Jones is an accomplished singer-songwriter who was a regular chart visitor in the mid-1980s with his brand of synthpop. Jones, who was equally popular in the U.S., appeared at Live Aid". Allmusic journalist, Stephen Thomas Erlewine adds, "Jones was one of the defining figures of mid-1980s synthpop. His music merged the technology intensive sound of New Wave with the cheery optimism of hippies and late 1960s pop. Jones racked up a string of hits in the mid and late 1980s, before he retreated into being a cult figure in the 1990s".
His first single called "New Song" was released in September 1983 and reached the UK Top 5 and US Top 30. He made his debut performance on BBC Television's Top of the Pops in October 1983, and he watched his tape-delayed performance on a borrowed television resting on an ironing board before a concert at the University of Kent. He subsequently had four more hits over the next twelve months and a UK Number 1 album, Human's Lib, which eventually went double platinum.

Credited with jointly writing the lyrics for six songs on the album was the lyricist Bill Bryant. Thanks to repeated exposure on MTV, the album became a moderate hit in the US. Later in 1984, "New Song" and "What Is Love" became American Top 40 hits, while "Pearl in the Shell" became his third UK Top 10 single. Human's Lib went gold and platinum in a number of countries. Jones had developed a loyal teen following, and his mother and father, Thelma and John Jones, ran his fan club.

In the summer of 1984, he released "Like to Get to Know You Well", which he said was 'dedicated to the original spirit of the Olympic Games'. Although it was not an official Olympic anthem for the Games in Los Angeles that summer, it was a worldwide hit. It reached Number 4 in the UK Singles Chart. The sleeve featured the song title in ten different languages; while Jones sang the title line in French and German on the extended 12" version. The song also appeared in the film Better Off Dead (1985) and the computer game Grand Theft Auto: Vice City Stories (2006).
Jones' second long player was a remix album. It contained six songs, all but one of which had been previously released, but which appeared in elongated formats, including the multilingual version of "Like to Get to Know You Well". The record sleeve for The 12 Inch Album, featured a miniature Jones standing next to a 12-inch ruler. The album went gold in the UK.
In 1985, Jones released his second studio album, Dream into Action.[1] He introduced his own backing band, including the female backing vocalist trio, Afrodiziak. Afrodiziak featured Caron Wheeler and Claudia Fontaine. Playing bass guitar was Jones' own brother, Martin. He had to have an extra string added to his instrument to play some of the bass lines, which had originally been played on a keyboard. One of the singles released from this album, "No One Is to Blame", was later re-recorded and featured Phil Collins as drummer and producer. Dream into Action was a worldwide hit and Jones' most successful album, reaching number 2 in the UK and number 10 in the US, staying on the US chart for almost a year. The album spawned the hit singles "Things Can Only Get Better", "Life In One Day", and "Look Mama". In July 1985, Jones performed at Wembley Stadium as part of the Live Aid concert, singing his 1984 hit "Hide and Seek" while playing a piano belonging to Freddie Mercury. He also embarked on a world tour reaching Japan, Australia and the US.

In the spring of 1986 in the US, he released Action Replay, an EP of remixes that featured a new version of "No One Is to Blame". It became Jones' biggest US hit, peaking at number 4. However, by this time, Jones' fortunes were changing in his native UK and "No One Is To Blame" peaked at number 16. His next single, "All I Want", peaked at number 35, and would be his last UK Top 40 hit. Jones released his third studio album, One To One, in October 1986, which peaked at number 10 in the UK and would be his last UK hit album, despite going gold there. Stateside, however, Jones continued to fill large arenas and the single "You Know I Love You Don't You?" went top twenty in 1986 on the Billboard charts.

In June 1988, Jones performed at Amnesty International's Festival of Youth at the Milton Keynes Bowl. Jones' subsequent albums Cross That Line (1989) and In the Running (1992) both performed poorly in the UK, the latter even failing to chart there. However,he had further hits on the Billboard charts in the US during this period, including "Everlasting Love" (1989, his second number 1 hit on the US Hot Adult Contemporary Tracks chart after "No One Is to Blame"), "The Prisoner" (1989), and "Lift Me Up" (1992).
Jones continued to play large venues in the US during the late 1980s, and the Cross That line tour played major outdoor venues in the US, during 1989. With his ten-year tenure on the Warner music label at an end, a greatest hits compilation The Best of Howard Jones was released in 1993. The album peaked at number 36 in the UK, and by 2005 (12 years after its release) it was certified silver by the BPI for over 60,000 copies sold in the UK.

Jones also had success as a songwriter for other artists in the early 1990s. He co-wrote the dance music hits "Heaven Give Me Words" and "Your Wildlife" with the members of Propaganda. The tracks appeared on the 1990 album 1234; "Heaven Give Me Words" reached number 22 on the Adult Contemporary chart and "Your Wildlife" reached number 22 on the Dance Music/Club Play Singles chart.

In the summer of 2013 Andy Bell joined Howard Jones on the highly anticipated Regeneration tour.