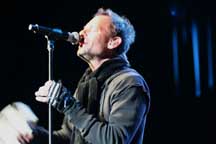 Gin Blossoms 2008
San Ramon, CA 4/19/08

San Ramon, California isn't really known for its music scene… yet. But if last nights sold out performance of the Gin Blossoms at the San Ramon Performing Arts Center is any indication of the future then I can't wait to see what's lined up for this suburban soccer mom's paradise. The 600 seat venue, reminiscent of a community theater with modernized features thanks to the upper-class neighborhood it serves had more of a high school musical feel then a rock venue.

Never the less, without an opening act the band went on stage promptly at 9:00pm to an eager but untypical concert going crowd. The staging was elementary at best, simply utilizing the basic black drapes positioned at the back of the stage but once the colorful lights and gentle hum of the sound system began the audience started to rock out!

Good times continued with "Until I Fall Away," where the unique sound of Robin Wilson's voice reminded everyone of why they came. With band mates Jesse Valenzuela, Bill Leen Scott Johnson and Scott Kusmirek they continued to belt out classics for their hit albums "Congratulations I'm Sorry" & "New Miserable Experience".

Following some mid-performance technical difficulties with the drum kit, Wilson's vocals began to faultier and kept deteriorating for a couple more songs saved by a long awaited guitar solo. Guitarist Scott Johnson and Jesse Valenzuela brought the crowd back to life with their powerful riffs, saving the show from utter dismay.

Returning to the stage and reading the crowd like a book Wilson kicked off the encore by playing a magnificent acoustic version of Elton John's "Rocket Man." It seems like "unplugged" is more his style, hitting all the high notes right on cue. Maybe the monitors were disconnected or his earpiece was broken but my only thought was he just couldn't hear himself when all his band mates were doing their thing.
If the crowd was any indicator of a successful show then the band had done their job and entertained another full house and the San Ramon Performing Arts Center should continue to entertain for years to come.