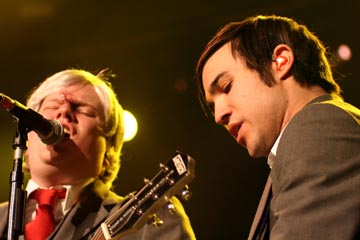 Fall Out Boy
Folie a Deux tour 2009
In contrast to the ACM Awards (American Country Music Awards) playing next door at the MGM the same night, Fall Out Boy and their fellow rockers shook the roof off the Palm Hotel Peal concert venue Sunday night in Las Vegas NV. Opening up the FOB 2009 Folie a Deux tour was Cobra Starship, Metro Station, and All Time Low. Not a bad value to see 4 bands for under $50.
Fall Out Boy began their show with a video montage themed around security and riots in various cities while security sirens and flashing red lights permeated the arena. Accompanied by fully equipped SWAT officers Pete Wentz, Patrick Stump, Joe Trohman, and Andy Hurley arrived on stage looking beaten and banged up. Promoting their latest album, Folie ŗ Deux they opened the show with a pair of songs off their latest album and the quickly jumped into some of their classics.
The sound quality was substandard but the bandís energy made up for any production downfalls. Like at any FOB show the high energy audience helped make the almost 90-minute set seem effortless and well worth the ticket price. With so many other distractions in Las Vegas this sold out show was a testament to the dedication and loyal followings Fall Out Boy has.