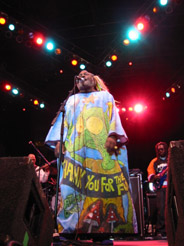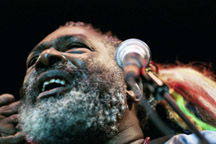 Photo: John G Tobin
George Clinton
If James Brown is the godfather of soul, then George Clinton is undoubtedly the godfather of funk. Always colorful and offbeat, Clinton fused rock and R&B in the '60s, set the dance floor on fire with disco classics in the '70s, ushered in computer-based new wave in the '80s and literally built a hip-hop empire in the '90s. By the late '70s, Clinton was leading and producing a slew of dynamic funk groups including Parliament, Funkadelic, Bootsy's Rubber Band, the Brides Of Dr. Funkenstein, the Pariets and the Horney Horns, as well as solo albums by P-Funkers Bernie Worrell, Fuzzy Haskins and Eddie Hazel. Throughout his career Clinton has remained a true original, combining humorous, eccentric lyrics and space-age concepts with top-level musicianship and untouchable grooves. No one knows how to funk like George Clinton.
Questions & Answers:
Did he have the mothership with him?
This was a festival type tour that he could not have his own stage. SORRY!