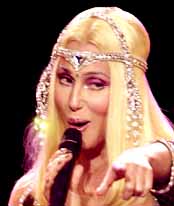 Cher
``Cher-est show on earth,'' That is what Cher promised to all her fans last night in San Jose and over the top it was, in every single Cher-arific way.
With 10 costume changes and 20 songs in two hours, Cher kept everyone on their seats. Even though this is her Farewell tour Cher is not ready to relinquishing her throne, Cher made a challenge to Britney, Christina and Destiny's Child ``all you young bitches…try to follow this.''
At 56, she was poised and polished, with no trace of aging. Her deep voice was the same as always, and when she changed to fit the decade of the song, she matched what she looked like years ago. With her looking this good, a farewell seemed out of the question.
``Give me a break,'' said Cher, mimicking Dr. Evil from the Austin Powers movies. ``I have been a friggin' evil diva for 40 friggin' years. I have to go sometime.''
Like a self-proclaimed goddess, she descended to the stage, belting out U2's ``I Still Haven't Found What I'm Looking For.'' She then went from silver snow queen to blue-veiled Indian princess riding in a mechanical elephant to an Amazon queen in black & red feathers and leather.
While she changed, Cirque du Soleil-like dancers bounced and flew around the stage providing ample eye candy. Her harem of dancers tumbled and twirled from strings and hoops hanging from the sky.
For some, as outlandish and titillating as she was, Cher lacked the personal touch of her opener Cyndi Lauper, who wrapped a bejeweled rainbow flag around herself while singing ``True Colors.'' She stood, fist outstretched, while most of the audience, gay and straight, gave a
For a woman who claimed that ``after a nuclear holocaust, there will be cockroaches and Cher.'' She gave the performance of a lifetime.
Questions & Answers:
How many wigs did she have? -Carri
I really didn't count, but if she needs a separate dressing room for them, then there must be a lot!