EchoSushi 6/9/04
Walnut Creek, CA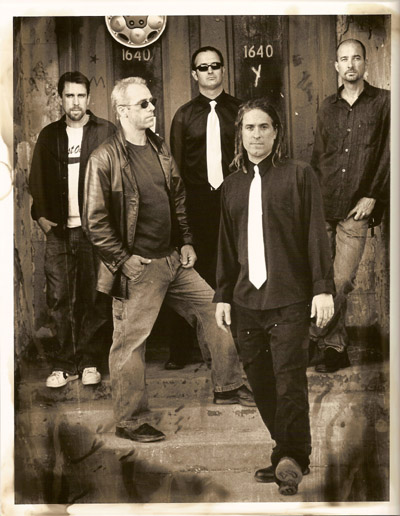 Chief Enablers
Chief Enablers are a rock and roll band from the San Francisco Bay Area. Previously, they were called Spakle. Two of the band members helped launch betterPropaganda, and the band came together after the collapse of the dot com boom. The lineup is a five piece: Kirk Kepley (drums), Steve Hadler (keyboards), Ted Leonard (lead tambourine, vocals, guitar), Terbo Ted (vocals, guitar), Chris Gemmel (bass).
Musically Chief Enablers reference the late 80's San Franciscan 'Thrash Funk' movement, as several band members had been deeply interwoven in that scene. Since then, the band has progressed, refining an eclectic sound. Sometimes compared to Talking Heads, Roxy Music or David Bowie, no one has ever been able to pin them down.

The band's self-published EP West Grand was recorded and engineered by Mark Pistel (Michael Franti, Spearhead, Tino Corp., Von Iva, Meat Beat Manifesto).

Chief Enablers' novelty song about internet dating, "Are You Online" topped betterPropaganda's rock download chart for the week ending March 14, 2004.

Questions & Answers:
What do you think will be their next hit?
I would have to say "Are you online."
Surprisingly timely subject matter for the band, with lyrics like "I saw you on Friendster." This is Kirk's favorite song, and it's super catchy. The track has, strangely, elicited comparisons to the Talking Heads, no doubt due to the syncopated world beat groove and irreverent half spoken/yelled lyrics.